This project, for a performing arts non-profit, is the largest I've undertaken to date. The Piatigorsky Foundation sends classical musicians to perform in underserved communities around the USA. They needed a modern face for their organization to better represent their mission and aid in fundraising—their previous site hadn't been redesigned in 11 years.
Database Integration
In addition to creating a new "look" for the site, I also designed and wrote a custom database integration to communicate with SalesForce, the foundation's database of choice. Now, rather than having to update calendar, tour, concert, and artist information in the database
and
the website, there is a script that runs every hour to query the database for changes and updates the static pages of the site accordingly.
Other new features include:
Artist Questionnaires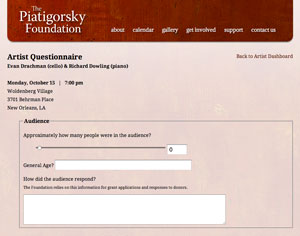 Whenever a performer is touring for the Piatigorsky Foundation, they complete a survey about each concert (used for grant reports and deciding which venues to return to in future seasons). These reports have always been filled out on paper, but now I've created a place for artists to log in and complete surveys online.
Blank surveys for upcoming concerts are automatically created from SalesForce records
Completed surveys are saved in SalesForce
Artists can recommend restaurants for future artists travelling in the same area
The Designs: Before & After