The Challenge:
This esteemed ensemble has been performing for over thirty years, but their previous website design was visually amateurish and confusing to navigate.
The Solution: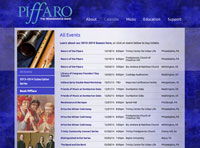 First, I catalogued all of the group's activities and worked with company leadership to identify the main purposes the site would need to serve, so I could then conceive of a new homepage and menu structure that would make it easy for all types of visitors (ticket-buyers, donors, and concert presenters) to find what they were looking for.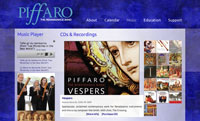 After developing a new visual style that brought out the deep, rich Renaissance colors that the group loves, I then custom-tailored each inner page of the site (for instance, the calendar and music pages to the right) to best exhibit the group's myriad activities.